DECADENCE - Smirnoff Fashion Awards 1997
- The designs won the third place at the SIFA Canadian Finals in Toronto, and for the avant garde design I also won the International Association of Textiles and Apparel design competition first prize - Best Wearable Art Award, which was so far my biggest design award.
- For the Smirnoff competitions, students are given a different theme each year. They are asked to design 2 garments, an avant-grade and a commercial variation, accompanied by the illustration and an essay/ interpretation of the theme. Visit my essays page for the written interpretations of the designs. Click on the image to view it in full size.

Avant Garde Jacket - hand painted taffeta and satin, computer manipulated image.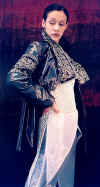 Commercial design - hand painted taffeta jacket, crystal organza and crochet top and skirt
Avant Garde Design - Hand made cotton crochet top, crystal organza skirt lined with taffeta.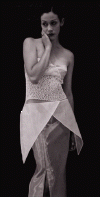 Commercial Design - Crochet and organza top with back tails, organza and taffeta lined skirt.
Avant Garde Design - hand made cotton crochet and crystal organza lined with iridescent taffeta dress. On top of it was worn a taffeta jacket with hand painted details, and painted lining of the jacket bottom part which becomes visible once that part is taken off by pulling the thread out of 50 small loops which connect the top and the bottom of the coat.