mEDIA
NATIONAL POST - Cocky Sportif Rules Roost - by Nathalie Atkinson, Friday October 20/06, to read the article click here
FASHION SHOW - Spring 2007 L'Oreal fashion Week, Toronto - Special thanks to Ms Robin Kay and FDCC, to see the video and photos click here
24 HOURS - Apetite for Ethnic- article by Tanya Enberg, page 25, Oct 22/06, click here to view the article
NOW MAGAZINE - Haute Toronto article by fashion Editor Andrew Sardone, October 06, to view click here
NOOVO MAGAZINE,SPAIN - Online Magazine from Spain featured Zoran in their permanent section of contemporary designers. Zoran Dobric is the only Canadian designer featured. To view click here.
WWW.GKFA.COM - online article about Zoran's Fall 2006 Collection writen by Jake Surette. Thanks to Jake S.and Johneen Manning,to read the article click here
FASHION SHOW - Fall 2006, L'Oreal fashion Week, Toronto - Special thanks to Ms Robin Kay and FDCC for making this show possible, to see the video and photos click here
EAST OF EDEN - Elle Canada, November 2005, page 92,93,94 - article featuring Zoran
FASHION SHOW - Spring 2006, Toronto Fashion Week, October 2005 - sponsored by FDCC (Fashion Design Council of Canada) Many thanks to Ms. Robin Kay for generous support. To view the video/pictures CLICK HERE
Applied arts,January / February 2006 - Editorial, styled by Juliana Schiavinatto
FASHION SPREAD - Lush Magazine, Spring/Summer 2005 issue - Special thanks to Editor and Creative director Mahfud Ibrahim www.lushmag.com
Jakalope music video "Feel it" and " Pretty Life"- currently on high rotation @ Much Music - costumes designed by Zoran , to watch the video visit: www.revolverfilms.com/jakalope "Pretty Life" video is also featured in Nokia TV commercials
FASHION SPREAD - Toronto Fashion Magazine, February 2005 issue - Special thanks to Tammy Eckenswiller for her support
November 18, 2004 Toronto Star: "Artiste Noveau" interview with Zoran
Many thanks to Fashion Editor Bernadette Morra for her support
Toronto Fashion Monitor - interview with Zoran, to read click here
special thanks to Fashion editor Julie Gabriel
Jakandjil.com Interview with Zoran by Byfarinoush Voshmgir, "Therapheutic Moonligting" ....many thanks to Tommy Ton and Byfarinoush for this great article, to read click here
additional MEDIA COVERAGE
May 2005, Gypsy Co-op Fall Winter 2005 Fashion show
November 26, 2004 Rogers Channel, Daytime TV show, interview with Zoran
November 6, 2004 Art of Fashion - Rethink Breast Cancer Fashion Show
Participant - 1sr prize winner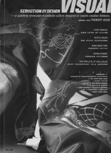 August 2004 Visual magazine, cover page, interview, p. 30-35
July 2004 CTV Breakfast TV, Much More Music - VJ Richard Cazeau
Wearing Zoran Dobric shirts
April 2004 Independent Fashion Show - Distillery District
October 2000 Fashion Magazine - p. 166, Cast Your Ballot (Millenium Design)
March 1999 Style Magazine - p. 6, Who's News (Smirnoff Awards)
July 1997 Style Magazine, p. 12, SIFA Canada
DESIGN AWARDS - photographs can be see on separate "Awards" page
November 2004 Most promising designer (1st award) Art of Fashion "Hollywood"
Rethink Breast Cancer Fashion Show (annual fundraiser gala)
January, 2000 Millennium Design Competition - Toronto fashion magazine- first prize
November, 1998 International Textile and Apparel Association Competition
Best Wearable Art -placed first at international finals in USA.
May, 1999 Smirnoff International Fashion Awards - third place at national finals
May, 1997 Smirnoff International fashion Awards - placed third
May 1998 Smirnoff International fashion Awards - chosen as one of 15 Canadian finalists.